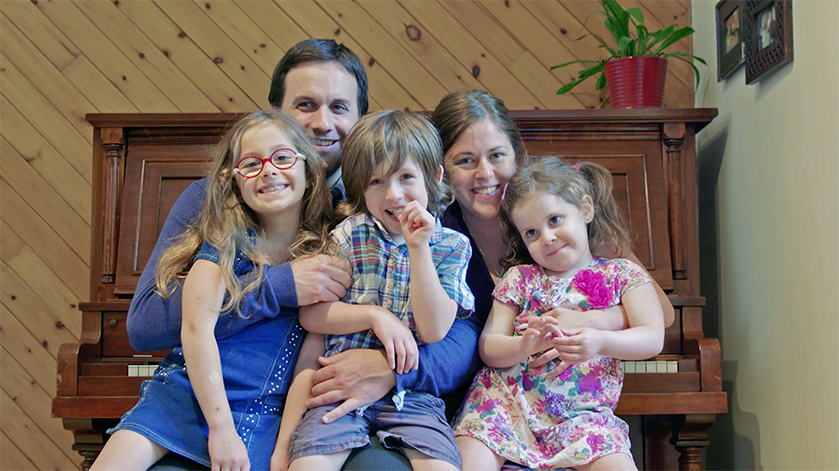 Ooly came about because of the frustration so many parents experience battling their children every night at bedtime and having them wake up way too early in the morning. This is the story of two sleep-deprived parents of three, Marie-Eve and Martin, trying to find a way to get their kids to go to bed and stay there all night long until a reasonable hour. Their dream was to come up with a solution so everyone in the family could sleep soundly at naptime and through the night, completely uninterrupted. Wouldn't life be a lot more enjoyable if everyone woke up at 7 a.m. instead of 5 a.m., feeling well rested and restored?

To achieve this seemingly impossible dream, they went online searching for the most effective methods of sleep coaching for children. They tried a multitude of products and techniques that promised to help their kids develop better sleep habits. Throughout the journey, they surveyed thousands of other parents dealing with the same problem. They found and interviewed sleep experts from across the world. When they realized what they were up against, they concluded they would need to reinvent the sleep learning device for children.

Turning to the magic of technology, along with the services of three valiant engineers, they designed and prototyped the Holy Grail of children's sleep learning devices. Ooly has everything they were looking for : elegance, portability, full customizability, intuitive configuration, low-light intensity and no blue-light emission to promote sleep, a long-lasting battery, etc. Ooly has been designed to adapt to any child's needs and sleep routine, as well as to grow with the child.

To make their dream a reality, these parents had to overcome many challenges; they struggled to find time between working full-time jobs and taking care of three kids, had to face enormous technical challenges, and deal with countless protagonists from the industry. Along the way, their kids seemed determined to defeat them at every turn and test their tolerance to sleep deprivation. That is, until they tested their prototype on them! Despite all the obstacles, they never gave up and in the end, they prevailed with an ingenious solution, Ooly!

Two years into the development phase, they can now envision their dream of a better night's sleep coming true, not just for them and their children, but also for the millions of other families across the world struggling with the same never-ending nighttime problems.
"I have had the pleasure of watching Ooly come to life from its very idea to its now birth and I must say, I am both excited and warmed by Marie-Eve's genuine care about this product. Ooly's "parents" are not your typical money hungry corporate that only cares about lining their pockets. They are parents who had a great idea that the parenting world is ready for!"
Emma Pollard, Owner/Consultant of
The Goodnight Nurse
.